Waterside Clothes Swaps - Next Steps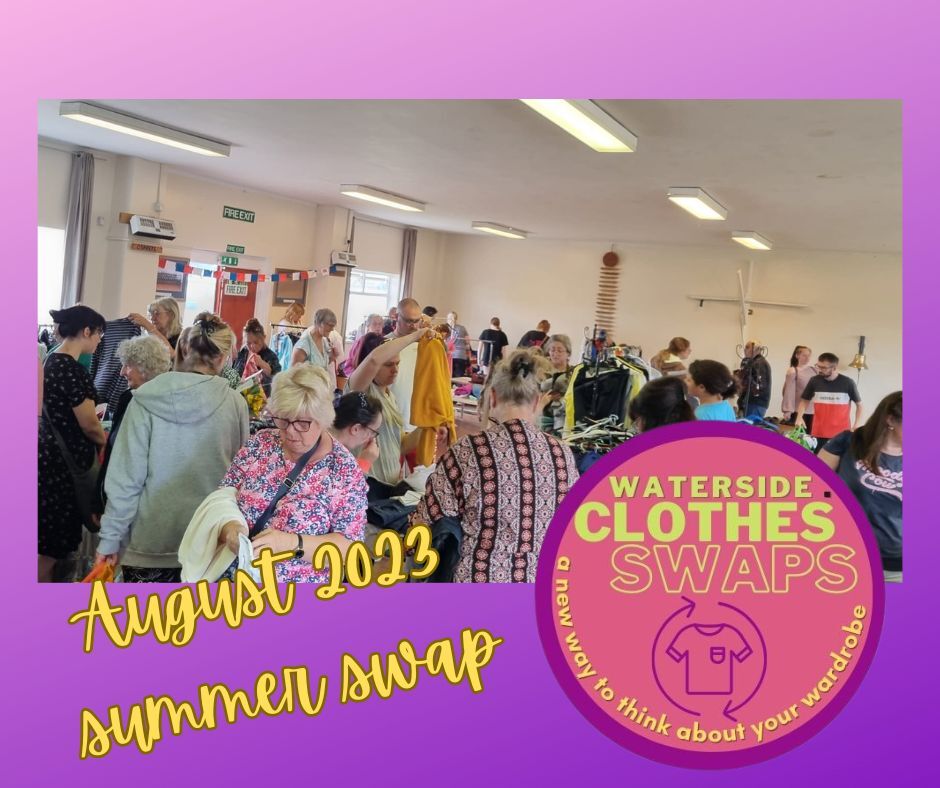 Now we have 5 clothes swaps under our 2nd hand belt it is time to look at the next steps to help the Waterside and wider New Forest area reduce its impact on the worlds resources with clothing.
Back in 2018 I wrote the working ethos for New Forest Aquaponics CIC, a blueprint for all the work we wish to include, to help people live with our planet and to do less harm while living a modern life.
This is from the life skills page.
Give a human a coat and they are warm for a while
Teach a human to make the coat and they can make a living whilst keeping themselves and others warm
As society moves towards a more regenerative way of living in harmony with our biosphere, we need to learn the skills that will allow us to do that.
Sewing - working with reclaimed unwanted textiles, teaching how to upcycle, repair, and refashion the clothes we have gives freedom from High Street shops and gets us out of the corporate consumer cycle. Being able to make and repair our clothes and the things we need can lead to self-sufficiency, or employment, or even better self-employment.

Our clothes swaps are first and foremost about reducing textile waste - which is a huge environmental and social issue everywhere in the world. But although that's where I started with this there is so many more ways the swaps help. Our swaps are always free for everyone to attend, making sure the swaps are as accessible as possible, which then helps with clothing poverty, which of course goes hand in hand with food poverty. Helping someone with clothing can really help stop the slippery slope towards real poverty.
We also try to make the swaps as fun as possible, and love to see when people try on clothes before taking them home.
But now it is time for the next part of this journey, and its very exciting too!
We have been given a space to house a shipping container to turn into a clothing / textile store.
Having a clothing store will allow us to do the following
Collect clothes and sort before the swaps
Store clothes left to enable us to help smaller clothes swaps to have a wider range of clothes easily, especially if they have no storage.
Provide a clothing bank for use by the foodbank and other referral agencies in the area to help clients with clothing.
Do simple fixes and repairs to still good clothing.
Reclaim material for teaching basic sewing skills.
Provide inspiration and material for upcycling clothing and art in the local area.
Reduce the amount of textiles that end up in landfill though community projects
And that's just the start!
Of course all of this has to start somewhere and that is with the shipping container. And for that we need to raise some funds. We have already put funding bids in to get help, but these all take time with no guarantee of success.
And that's where you can help us. At each swap we collect donations at the end, and these normally go to a local charity, community supporting community. But this time the donations are going towards the cost of purchasing a container, and fitting it out to be a nice place to come.
This is a link to our online donations platform, using this link the money will be ring fenced for the container, and fitting it out. If we do get awarded a grant for the container, any donations will go towards future clothes swaps and projects lead by the clothes swap volunteer team.
https://donorbox.org/waterside-clothes-swaps-online-donations
Our next clothes swap event 5th November https://fb.me/e/3TACbPHRr
17:24, 31 Oct 2023 by Lucie Mann
Tags: