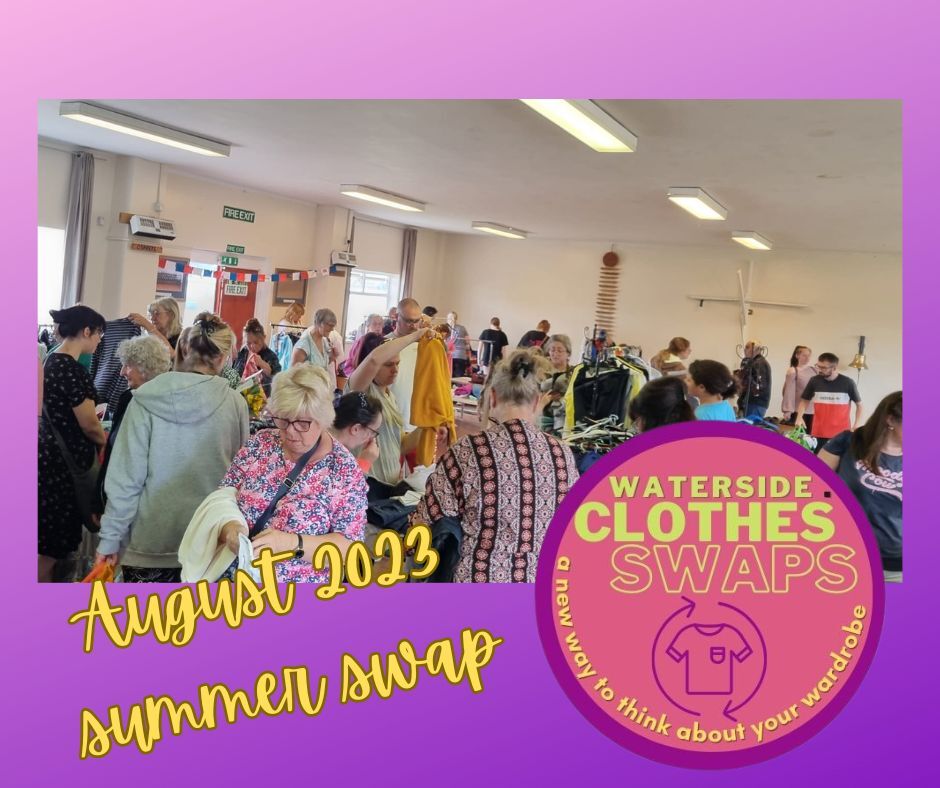 How can we create a more regenerative culture around clothes in the New Forest?
Now we have 5 clothes swaps under our 2nd hand belt it is time to look at the next steps to help the Waterside and wider New Forest area reduce its impact on the worlds resources with clothing.
Back in 2018 I wrote the working ethos for New Forest Aquaponics CIC, a blueprint for all the work we wish to include, to help people live with our planet and to do less harm while living a modern life.
This is from the life skills page.
Give a human a coat and they are warm for a while
Teach a human to make the coat and they can make a living whilst keeping themselves and others warm
As society moves towards a more regenerative way of living in harmony with our biosphere, we need to learn the skills that will allow us to do that.
Sewing - working with reclaimed unwanted textiles, teaching how to upcycle, repair, and refashion the clothes we have gives freedom from High Street shops and gets us out of the corporate consumer cycle. Being able to make and repair our clothes and the things we need can lead to self-sufficiency, or employment, or even better self-employment.

Our clothes swaps are first and foremost about reducing textile waste - which is a huge environmental and social issue everywhere in the world. But although that's where I started with this there is so many more ways the swaps help. Our swaps are always free for everyone to attend, making sure the swaps are as accessible as possible, which then helps with clothing poverty, which of course goes hand in hand with food poverty. Helping someone with clothing can really help stop the slippery slope towards real poverty.
We also try to make the swaps as fun as possible, and love to see when people try on clothes before taking them home.
But now it is time for the next part of this journey, and its very exciting too!
We have been given a space to house a shipping container to turn into a clothing / textile store.
Having a clothing store will allow us to do the following
Collect clothes and sort before the swaps
Store clothes left to enable us to help smaller clothes swaps to have a wider range of clothes easily, especially if they have no storage.
Provide a clothing bank for use by the foodbank and other referral agencies in the area to help clients with clothing.
Do simple fixes and repairs to still good clothing.
Reclaim material for teaching basic sewing skills.
Provide inspiration and material for upcycling clothing and art in the local area.
Reduce the amount of textiles that end up in landfill though community projects
And that's just the start!
Of course all of this has to start somewhere and that is with the shipping container. And for that we need to raise some funds. We have already put funding bids in to get help, but these all take time with no guarantee of success.
And that's where you can help us. At each swap we collect donations at the end, and these normally go to a local charity, community supporting community. But this time the donations are going towards the cost of purchasing a container, and fitting it out to be a nice place to come.
This is a link to our online donations platform, using this link the money will be ring fenced for the container, and fitting it out. If we do get awarded a grant for the container, any donations will go towards future clothes swaps and projects lead by the clothes swap volunteer team.
https://donorbox.org/waterside-clothes-swaps-online-donations
Our next clothes swap event 5th November https://fb.me/e/3TACbPHRr
17:24, 31 Oct 2023 by Lucie Mann
Tags:
Clothes swaps – at last!!!
Been on my list to get going in my area for so long and now they are here!
I love clothes swaps, with a passion. Let's face it, we all love new clothes, but our planet doesn't, so clothes swaps are the answer.
They are also the answer to many other issues we face in our modern society. So what part do they play in regenerative culture?
On 29th January a team of people came together in the waterside, New Forest UK for the launch of Waterside Clothes swaps. Under my guidance as the only member of the team who had been to a clothes swap before, and with the help of Natalie Haigh, who is a passionate crafter and bag maker, we wanted to test the water and see who would come.
The hall was quite small, to keep the costs down for the first one, we then got sponsorship from the waterside women – a local community group to help cover the costs of running the first one.
The volunteers numbered around 15, and everyone got stuck in to help make the day run perfectly! The Waterside Party Kit hire came along, although Katie who runs it spent more time helping out than promoting her party kit, but it becomes addictive seeing what clothes are coming through the door!
So how do we run the clothes swaps?
During the week before we collect clothes from the community, so some presorting can take place and for those who can't make it on the day, but wish to contribute.
In the morning of the event we take clothing donations, we get as many of the clothes on rails as we can, so it has a shopping feel to the swap.
Once we are open, it is free to come in – all our welcome – and then everything is free, regardless of whether you have anything to swap. A team of volunteers sort clothes as they come in, and help people find their way round the different sections. A changing room is available, so much fun can be had trying things on!
Teas, coffee, and cakes were also free, and the Waterside Food Project brought along supermarket surplus bread, cakes and flowers, all again free.
How many things do you go to where it is totally free?
We did have a donation pot out, a give what you feel approach, and we ended up with just over £200! I think people really loved the clothes swap. They are asking for the next one.
So back to regenerative culture. If we wish to really 'save the planet' to ensure this beautiful world of ours, for there to be a place for us within it, we have to dramatically change the way we do things, the way we demand things, and value everything and everyone.
What does that have to do with clothes? Everything, there are enough pieces of clothing produced each year for each person to have 14 new items – or 100 billion items. Each one involving fossil fuels in the manufacture, even natural fibres, have far more connection to the fossil fuel industries than is commonly recognized. Of course all of these items of clothing are not evenly distributed around the world, with many never ever seeing a brand new piece of clothing with others seeing far more than their fair share.
We often see talk of food poverty, but very rarely is clothing poverty talked about, but both go hand in hand. The drivers behind social media and fast fashion also can have very serious effects on our mental health.
If we can change the way we view clothing, and understand its impact on our world and all the lives that inhabit our biosphere we can all win.
There are far too many issues for me to cover in this blog post, and really I wanted to start by celebrating the success of our first Waterside Clothes swap. Please do some research if you feel you would like to understand more about the impact of textiles.
And if that feels too much for you, then at least try to make your next purchases from a charity shop, or search out your local clothes swap – and if there are none, MAKE IT HAPPEN in your area!
17:55, 05 Jun 2022 by Lucie Mann
Tags:
Archive
Use the calendar or list of months to view entries made on those dates.
| S | M | T | W | T | F | S |
| --- | --- | --- | --- | --- | --- | --- |
| | | | | | 1 | 2 |
| 3 | 4 | 5 | 6 | 7 | 8 | 9 |
| 10 | 11 | 12 | 13 | 14 | 15 | 16 |
| 17 | 18 | 19 | 20 | 21 | 22 | 23 |
| 24 | 25 | 26 | 27 | 28 | 29 | 30 |
| 31 | | | | | | |